TOP
Shanghai to shape Adidas' dreams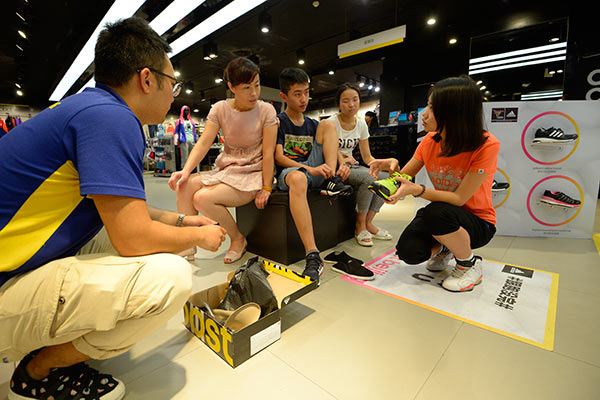 German sportswear maker Adidas has put Shanghai at the center of its efforts to boost expansion in the world's fastest-growing consumer market and consolidated its Asia-Pacific operations in the city.
Previous individual markets in China, Japan, South Korea and Southeast Asia-Pacific will be brought together under the leadership of Colin Currie, who has been promoted as managing director of Adidas Asia-Pacific. Currie will also continue in his capacity as managing director for the Chinese market.
"By integrating key regional markets into one Asia-Pacific market based in Shanghai, we will be able to drive a more sustainable and efficient business model across the region," Currie said.
With a more sustainable business model across Asia-Pacific, it will also improve operational efficiency, driving simplicity and allowing the brand to leverage best practices and the best talent from across the region, according to Adidas.
Buoyed by the nationwide surge in sports and fitness, Adidas has over 10,000 stores in more than 1,200 cities in the country and consolidated its position in 23 key Chinese cities, as well as made strong inroads into lower-tier or "future" cities.
Shanghai will play an even greater role in shaping the brand's success throughout Asia-Pacific, said the company. The region's size and economic power, together with its rapidly changing consumer trends, growing cities and fast-paced e-commerce and digital landscape are driving new opportunities for Adidas, according to the company.
In 2017, sales in China increased by 29 percent, making it Adidas' fastest growing market globally. In euro terms, the company's sales rose 15 percent to 21.22 billion euros ($26.23 billion) in 2017. In the fourth quarter, sales in China were up 32 percent, driven by the Adidas and Reebok brands.
The performance has proved the brand's leading position in sports, fitness and style in the market, said Currie. The company will continue to focus on products, services and areas such as digital and e-commerce, he said.
Adidas CEO Kasper Rorsted added that "our strategic growth areas-North America, China and digital commerce-were the main drivers of our performance."
The company expects sales to increase at a rate of around 10 percent in 2018. Following the strong operational and financial performance in 2017, the company has also upgraded its 2020 profitability target. The company now expects to reach an operating margin of up to 11.5 percent by 2020.
Adam Zhang, founder of Key-Solution, a sports marketing and consulting agency, said the growing interest for sports and the increased demand for better sportswear and goods have helped Adidas in China. Euromonitor International, a market research provider, said the total sportswear market in China could reach 318 billion yuan ($50.3 billion) by 2022.